"StretchFit" Custom Made Plain Unprinted Spandex Table Covers
---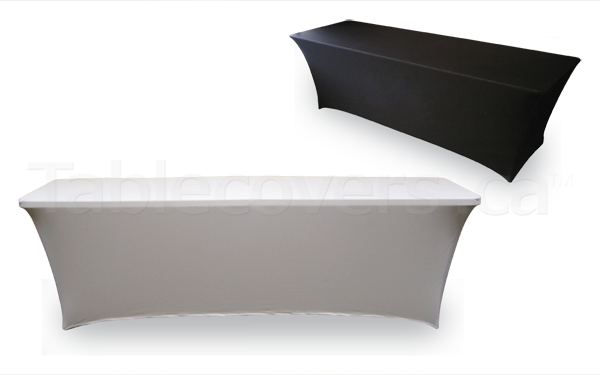 As Canada's leading manufacturer of custom digitally printed table graphic table coverings, our premium quality plain unprinted premium "StretchFit" spandex tablecovers are a great way to dress up a boring display table, turning an ordinary folding table into a work of art! The form fitting stretchy fabric hugs the table right down to the feet and creates curves and shapes which add an artistic, modern look to your trade show exhibit or portable display. We custom made these "Stretch Fit" spandex table covers in common table sizes or to fit virtually any table size you want. All of our plain unprinted Stretch Fit spandex table covers meet NFPA 701 flame retardant requirements (certificate provided) which are critical in many exhibit halls and public spaces.
"Stretch Fit" Custom Made Plain Unprinted Spandex Table Covers feature:


high quality stretch spandex fabric combined with our top notch production expertise for a truly spectacular table cover
top quality flame-retardant fabric with certificate (passes NFPA 701 Small Scale & California Reg#F-50001) available in 199 gsm regular or 192 gsm recycled stretch fabric
outstanding durability - machine washable, can be ironed or dry cleaned - no problem if (when) you spill a coffee on it!
professionally finished (sewn hems, foot pockets) for a tailored appearance and made to fit standard or custom table sizes
custom made to order in Canada by us - normal production time is 5 business day
Explore your options for plain unprinted Stretch Fit spandex table covers by browsing the products below ...
Products
---
Our full line of spandex tablecloth products includes:
Canadian made Custom Printed "Stretch Fit" Spandex Table Covers for trade shows
Canadian made Custom Printed "Stretch Fit" Spandex Table Top Caps with custom printed logos / graphics / images
Canadian made Plain Unprinted "Stretch Fit" Spandex Table Covers for seminars and conferences
imported Economy Custom Printed Spandex Table Covers with logo printed in Canada
spandex table cloths for 6 foot rectangular tables
8 foot spandex table cloths with logo
spandex cocktail table covers
custom printed spandex table topper caps