Custom Printed Table Covers, Cloths & Throws
---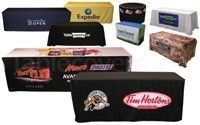 Our TableCovers.ca brand is Canada's leading manufacturer of custom digitally printed display table coverings. Custom printed fitted table covers, drape table cloths and economical table throws are ideal for indoor and outdoor events like trade shows, conferences, seminars and retail promotion displays. They easily turn a standard exhibit table into valuable advertising promotional space. These fire retardent table coverings are branded with company logos, graphics, special Pantone colours, and even full colour photos! We started manufacturing them in 2000, so we know how to get the best results - so no excuses. Check out the photos below to see how great our fire retardent table displays look - and we produced them all!
We offer three quality/price level choices for your customized display table coverings (see bottom of this page for details on the differences):
A) Premium Custom Table Covers - best quality, softest feel, with widest range of styles & sizes, custom printed & made to order in Canada: printed 6 ft covers from $299 (even less if qty >1)

OR
B) Mid-range Custom Printed Table Cloths - high quality, common styles & sizes, made & printed in Canada: printed 6 ft tablecloths from $219 (even less if qty >1)

OR

C) Basic Table Throws with Logo - budget-friendly but don't look cheap, limited print area & sizes, printed in Canada: printed 6 ft table throws from $179 (even less if qty >1)

No matter which ones you choose, ours all are fire rated (pass NFPA 701 or DIN 4102-1). Flame retardent fabric is critical for fabric table displays at trade shows, retail promotions or in public areas and lowball competitors' cheap fabric can't be used at many venues. Rush service as fast as 24 hours is also available.
Check out our unbiased 4.7⭐ rating on Google reviews!
⭐⭐⭐⭐⭐
"We had a tablecloth made by Signs Plus with our logo printed on it back in 2009 and it is still in perfect condition: no fading, rips, or holes. Now that we are expanding we needed another tablecloth with the same logo and Signs Plus was able to provide us with another excellent product with great customer service. I'm pretty sure both of the tablecloths will last for a few decades."
Just browse the categories below to shop all printed table covers, tablecloths and table throws sorted into groups. Or shop the "PRODUCTS" listed further below to explore some popular models:
---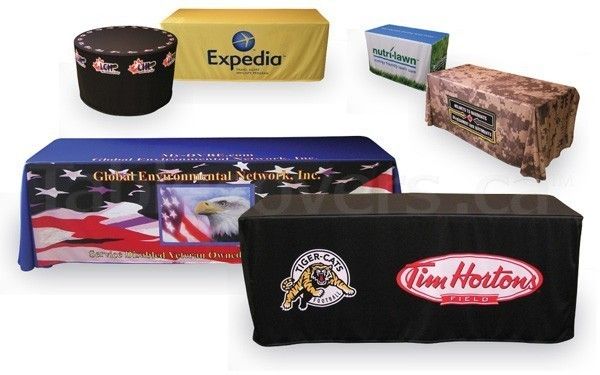 Custom Table Covers (premium quality)
20 products
3 categories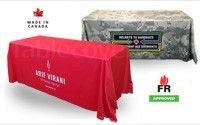 Custom Printed Table Cloths (mid-range)
4 products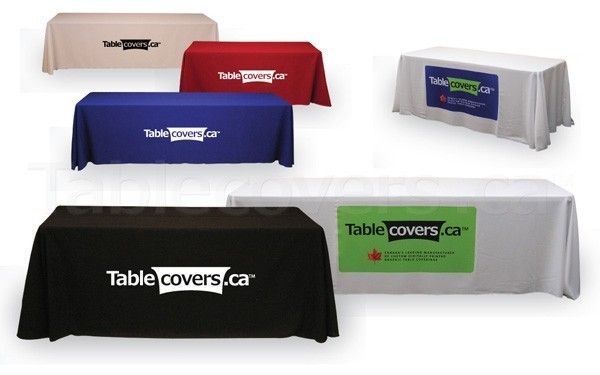 Table Throws with Logo (basic)
6 products
Products
---