Curbside Pickup Outdoor Parking Lot Signs
---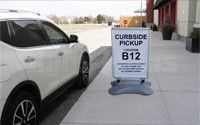 The Covid-19 has required many changes to our routines, and one of them is the no-contact pickup procedures that many retailers and businesses have implemented. Our outdoor signs are ideal for communicating to customers and directing them through curbside or contactless pickup to make the process smoother and require less managing by staff who are busy with other duties.
Check out:
- Portable, weighted "E-Z Sign Post": base can be weighted by filling with water or sand, choose either a 5' or 10' high post with pre-drilled holes to display a sign up to 18" wide x 24" high
- "Whirlwind"Heavy Duty double-sided aluminum sidewalk sign: base can be weighted with water or sand, wheels for portability, displays two 22"w x 28" h signs.
- "Sign A Cade Deluxe" Molded Plastic Sandwich Board: base can be weighted with water or sand, displays two 24"w x 36" signs.
- "Promo Flag" flying banner: feather or teardrop shape fabric banners in various sizes, can be used outdoors



Products
---