Custom Printed Table Runners
---
Our custom digitally dyed fabric table runners are absolutely the easiest way to add life to a standard draped table! You simply lay them on top of the existing standard table draping to dress up a banquet or catered celebration, enhance wedding reception tables, or act as a focal point for corporate meetings or conferences.
Using our amazing digital dyeing process, we custom dye a range of fabric table runners with virtually any content - from the names and wedding date of the bride and groom to full colour corporate logos!
These table runners are a custom dyed fabric strip that runs along part of the table. They either run over the top edge and down the front of the table (head table style), or they are placed flat on top of the table (guest table style), covering just a part of the table with your logo or other graphics.
Unlike other inferior table covering products, ours are digitally dyed into real polyester fabrics so they have the same easy care properties that polyester offers - minimal shrinkage, washable, and even ironable! Plus, our dyes don't change the soft feel or drape of the fabric and the image quality is second to none!
---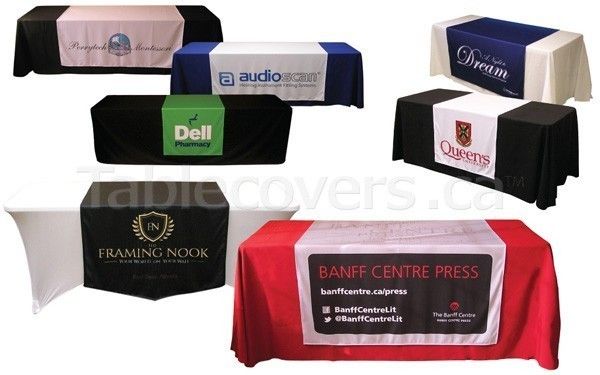 Custom Printed Table Runners For Trade Shows & Display Tables
10 products
5 categories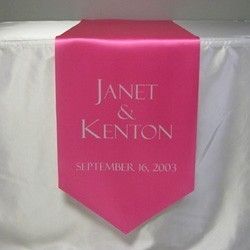 For Weddings & Celebrations (custom printed)
48 products
4 categories