Basic Plain Unprinted Spandex Table Covers & Topper Caps
---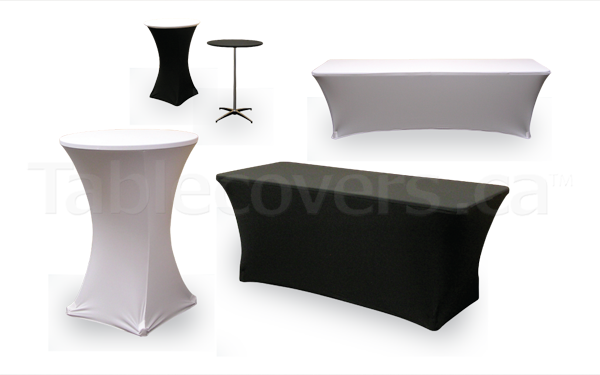 As Canada's leading manufacturer of custom digitally printed table graphic table coverings, we also stock ready to ship plain unprinted basic spandex tablecovers and topper caps. For limited use and tight budgets, these are a cost-effective solution. Even though we call them "Basic" spandex table covers - they're not cheap or poor quality products. Our basic flame retardant spandex table covers have many features found in some suppliers "premium" spandex table covers.



good quality 220 gsm polyester spandex fabric available in your choice of 2 plain colours: White or Black
the fabric is coated to make it flame retardant fabric (meets NFPA fire code requirements), certificate provided
these models are not custom printed – for logos or branding see custom printed models
usually in stock and ready to ship the next day (made in China)
easy to keep looking good: machine washable, can be ironed if desired, and very durable - no problem if (when) you spill a coffee on it!
professionally serged edges sewn all around so the edges won't fray
models for 6 foot or 8 foot rectangular tables or 30" diameter round "high boy" cocktail tables
Explore your options for basic plain unprinted spandex table covers and topper caps by browsing the product categories below ...
---
Products
---
Whatever you call them, we have them:
plain spandex table cloths
spandex table wraps
slipover table covers
stretchy table cloths
lycra table covers
snug table cloths