Banner Stands
---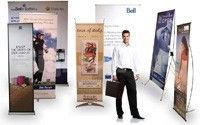 Portable Banner Stands provide an attractive, light and easy-to-assemble solution for just about any situation that requires a large but portable graphic display. Perfect for trade shows, special events, seminars, company meetings, press conferences, product launches and more.





We offer many types of portable banner stands - all of which are easy to set up, compact and professionally present retail promotional messages or trade show banners:
Roller retractable roll up banner stands: quickest, easiest set-up of any banner stand style because the banner graphic is already concealed in the base of the unit and you simply roll it up for display
Spring Back Banner Stands: simple design which uses spring tension on one or two upright support rods to keep the banner graphic taught on the stand. Requires a little more space behind the banner to accommodate the curved spring-back or tripod style footprint
Pedestal Banner Stands: have a central pole holding up the banner which creates a sleek, minimalistic appearance
Telescopic Banner Stands: have one or two telescopic vertical support poles which allow height adjustment and also make it easier to set up the banner to its full height
⭐⭐⭐⭐⭐ Check out our unbiased 4.7⭐ rating on Google reviews!
"Your customer service was far beyond any I have ever experienced, and the banner arrived on time and looks TERRIFIC! We are so impressed with the quality and appreciate you going the extra distance given the VERY tight turnaround time."
Just browse the following categories to shop all our banner stands sorted into groups. Or see the "PRODUCTS" listed further below to quickly get to some of our most popular products:
---
Products
---