Spring Back, Pedestal & Telescopic Banner Stands
---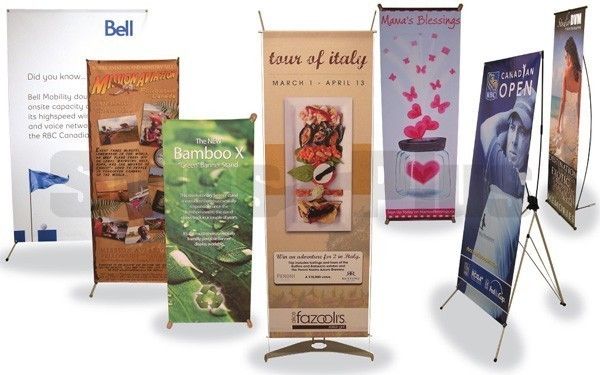 We offer a wide range of Spring Back, Pedestal and Telescopic style banner stands (these are not roller retractable), all of which are economical and compact:
• Spring Back Banner Stands: simple design which uses spring tension on one or two upright support rods to keep the banner graphic taught on the stand. This style does, however, require a little more space behind the banner than other types to accommodate the curved spring-back or tripod style footprint.
• Pedestal Banner Stands: have a central pole holding up the banner which creates a sleek, minimalistic appearance.
• Telescopic Banner Stands: have one or two telescopic vertical support poles which allow height adjustment and also make it easier to set up the banner to its full height.

---
Complete Kits (hardware with printed banner)
5 products
Frame Hardware Only (no banner)
8 products
Printed Banners Only (no hardware)
6 products
Products
---
"Adjust X" Adjustable Spring Back Banner Stand x-frame, COMPLETE KIT (hardware, soft bag and printed banner 25"w x 70.5"h)
"Adjust X" adjustable x-frame tension Complete Kit - frame hardware, soft bag and printed banner 25"w x 70.625" h (narrow size). Available features:








BSadjX-n-Kit
Cdn $168.00
Cdn $133.50 133.50 (save 21%)