Pop-Up Canopy Tents
---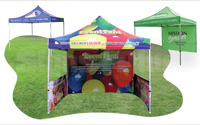 Our high quality custom printed portable popup canopy tents are made exclusively to meet the rigorous demands of outdoor events, festivals and trade shows. They're built with commercial grade durability, designed for easy setup and protection from the elements, to create maximum attention!
Professional grade canopy tents that are made for business







Just click on the following categories to browse all our custom printed pop up canopy tents sorted into groups. Or see the "PRODUCTS" listed further below to quickly get to some of our most popular products:
---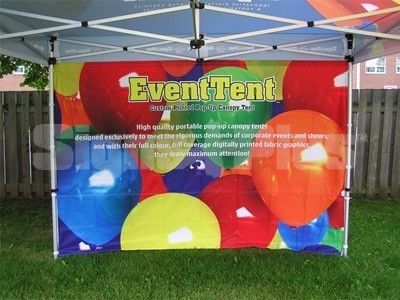 "Event Tent" Walls & Accessories
14 products
Products
---
These custom printed canopy tents are referred to by many names:
- branded pop up tent
- popup tent with logo
- pop up logo canopy tent
- festival tent with logo
- trade show tent
Whatever you call them, they provide protection from the elements and a big graphic messaging area with quick, easy setup.