OUTDOOR DISPLAYS
---
Our range of outdoor promotional sign products are diverse, but what they have in common is that they are designed to work well in outdoor conditions which can often be challenging for display products. Our selection of promotional feather flags and teardrop banners, a-frame signs, custom canopy tents and portable billboards use rugged components and hardware, along with high quality printing using environmentally friendly extended life inks or dyes, so they last through the rigors of outdoor use.
Just browse the following categories to shop all our outdoor display products sorted into groups. Or see the "PRODUCTS" listed further below to quickly get to some of our most popular products:

---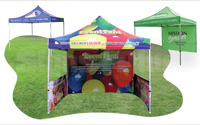 Custom Printed Pop-Up Canopy Tents
19 products
2 categories
Promotional Feather Flags, Teardrop Banners, Pennants
23 products
6 categories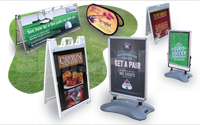 Portable Billboards & Sign/Banner Frames
8 products
3 categories
Featured Products
---
Products
---
Custom Printed Fabric Bunting Pennants, 8" w x 12" h, 10 metre string of 24
Custom printed bunting pennants, 8" wide x 12" high, 10 metre string of 24:
triangular or rectangular shape, 24 pennants per length spaced 8" apart on 10 metre (32.8 foot) webbing, outdoor durable full colour dye sublimation printing on one side (shows 90% through the back side) with any colours or content you want.



FBbunt8x12ss
Cdn $199.00 199.00