Pop Up Tension Fabric Displays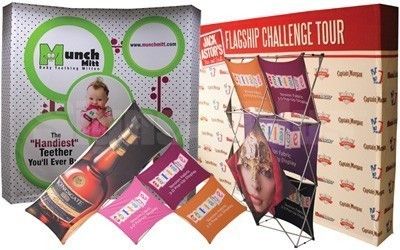 Tension fabric systems are the next generation in trade show exhibits and large graphic displays, and we're one of the few companies around that actually have the in-house capability to produce the dye sublimation printed graphics. These innovative displays use lightweight frames which expand like an accordian and put tension on the fabric graphic. This tension pulls any wrinkles out of it and creates a spectacular, modern appearance. Since the graphics are made of polyester fabric, the display is very lightweight and transports easily. Their light weight and ease of set up make them ideal for use as trade show displays, event backwalls, or logo walls at press conferences.






Pop Up style tension fabric displays are incredibly easy to set up and use "scissor" type pop-up frames to stretch the fabric slightly, creating a smooth appearance with minimal wrinkling:
• lightweight backwall displays with aluminum or formed steel pop up frame
• incredibly easy setup since fabric graphic remains attached - takes less than a minute!
• as display is opened, tension on the fabric smooths wrinkles
• full floor-standing exhibit weighs under 20 lbs. (bag / case weight extra)
• wide variety of models available from table top to floor-standing sizes, in straight or curved shapes

---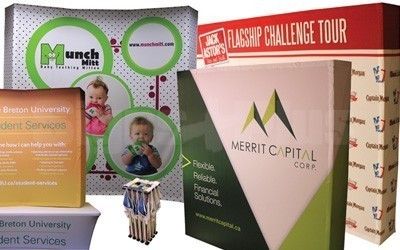 "FabPop" Pop Up Tension Fabric Backwall Displays
39 products
3 categories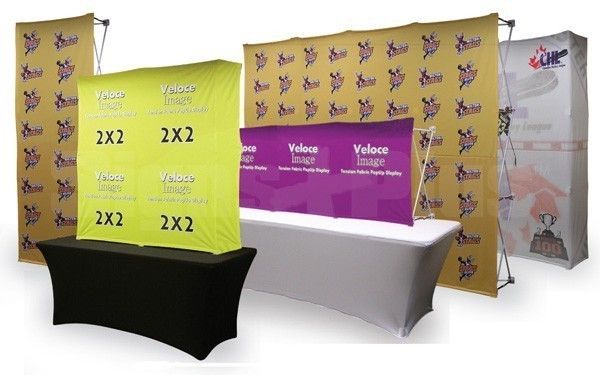 "Velocé Image" Economy Pop Up Tension Fabric Backwall Display
2 products
3 categories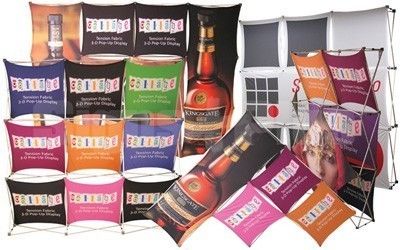 "Collage" Pop Up Tension fabric 3D displays
7 products
3 categories
Select another category to view available products.
Pop up tension fabric displays and exhibits for trade shows, special events and retail promotions from a Canadian ( Toronto area ) graphic display supplier. We have the latest popup tension fabric displays with dye sublimation printed fabric graphics for light weight, portability and easy setup:
• portable trade show displays
• repeating logo backwalls
• step and repeat logo press conference media walls
• portable trade show exhibits

• logo backdrops
• tension fabric trade show displays