Custom Printed Spandex Table Covers & Topper Caps
---

Our TableCovers.ca brand is Canada's leading manufacturer of custom digitally printed graphic table coverings, and these custom printed spandex table covers turn an ordinary display table into a work of art! The form fitting stretchy fabric hugs the table right down to the feet and creates curves and shapes which add an artistic, modern look to your trade show exhibit or portable display. We are the manufacturer and have full control over the quality and meeting your deadline without excuses.
We offer two quality/price level choices of custom printed spandex tablecloths:
"Stretch Fit" Custom printed spandex table covers feature the highest quality dye sublimation printing with unlimited colours (even Pantone PMS), unlimited print area, these custom branded tablecloths are made to order in Canada using beautiful flame retardant USA 199 gsm spandex polyester fabric (recycled fabric also available), for standard or custom table sizes (even counter height), usually ready in 5 business days






OR
Basic custom printed spandex table covers with either one colour heat transfer printed simple logo / text or full colour (even Pantone PMS) dye sublimation printed logo / graphics, maximum print area (depends on model), custom branded tablecloth with logo on the front area of imported 220 gsm stretch polyester fabric (2 fabric colours), in sizes to fit 6 ft and 8 ft tables (the most common) and 30" diameter cocktail tables, usually ready in 3 business days





All our custom printed spandex logo table covers meet NFPA 701 fire code regulations which is the most common requirement for flame retardancy (and is required for many trade shows), and they come with a certificate to prove it. We've got you covered no matter what type of custom printed spandex table cloth you need and rush service for either type of tablecloth is available as fast as 24 hours.
Just click on the following categories to browse all our custom printed spandex table covers sorted into groups. Or see the "PRODUCTS" listed further below to quickly get to some of our most popular products:
---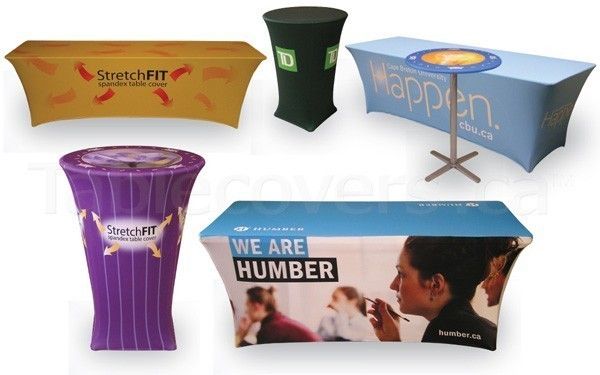 Custom Printed "Stretch Fit" Spandex Table Covers & Topper Caps (any colours, full coverage dye sub)
18 products
4 categories
Featured Products
---
Products
---
FRONT custom printed 6 foot closed back "Stretch Fit" Spandex Table (or Counter) Cover
FRONT custom printed "Stretch Fit" Spandex Table (or Counter) Cover for 6 foot rectangular display table.
The top, both sides and back of these custom Canadian-made to order table covers are plain black or white unprinted inherently flame resistant spandex fabric.




TC4s723029f
Cdn$359.00 359.00 (save 10%)
Black 6 Foot Basic Custom Printed Spandex Table Cover with White (PU vinyl) Logo
Black 6 Foot Basic Custom Printed Spandex Table Cover with White (heat transfer PU vinyl) Logo:
closed back, stretch style, for 6 ft standard (72" wide x 30" deep x 29" high) standard table, NFPA701 flame retardant black 220 gsm polyester spandex stretch fabric with white PU vinyl heat transfer logo or text printed on the front (36" wide x 15" high max. print area).




TCE4s723029n-b+htv
Cdn$199.00 199.00