Custom Printed Spandex Table Covers & Topper Caps
---

Our "Stretch Fit" spandex tablecovers are the most visually striking tablecloths available, turning an ordinary display table into a work of art! The form fitting stretchy fabric hugs the table right down to the feet and creates curves and shapes which add an artistic, modern look to your trade show exhibit or portable display. We are the manufacturer and have full control over the quality and meeting your deadline without excuses.
We offer two quality/price level choices of custom printed spandex tablecloths:
"Stretch Fit" Custom printed spandex table covers feature the highest quality dye sublimation printing with unlimited colours (even Pantone PMS), unlimited print area, these custom branded tablecloths are made to order in Canada using beautiful flame retardant USA 199 gsm spandex polyester fabric (recycled fabric also available), for standard or custom table sizes (even counter height), usually ready in 5 business days






OR
Economy custom printed spandex table covers with either one colour heat transfer printed simple logo / text or full colour (even Pantone PMS) dye sublimation printed logo / graphics, maximum print area (depends on model), custom branded tablecloth with logo on the front area of imported 220 gsm stretch polyester fabric (2 fabric colours), in sizes to fit 6 ft and 8 ft tables (the most common) and 30" diameter cocktail tables, usually ready in 3 business days





All our custom printed spandex logo table covers meet NFPA 701 fire code regulations which is the most common requirement for flame retardancy (and is required for many trade shows), and they come with a certificate to prove it. We've got you covered no matter what type of custom printed spandex table cloth you need and rush service for either type of tablecloth is available as fast as 24 hours.
Just browse the following Categories to see all available models, or see the Featured Products further below to go straight to a particular popular product:
---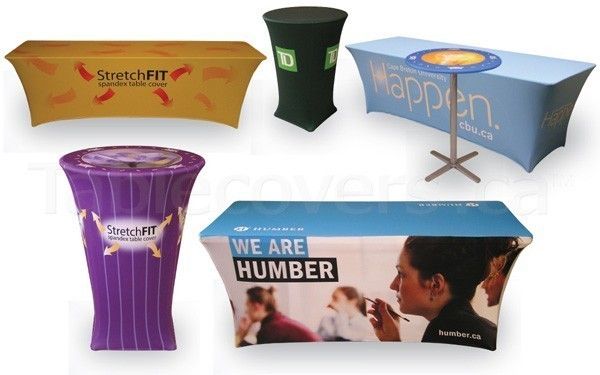 Custom Printed "Stretch Fit" Spandex Table Covers & Topper Caps (any colours, full coverage dye sub)
18 products
4 categories
Featured Products
---
WE ARE CANADA'S LEADING MANUFACTURER OF CUSTOM DIGITALLY PRINTED GRAPHIC TABLE COVERINGS
We've been in business since 1994 and started producing custom dye sublimation printed table cloths in 2002 so we've got more experience than many of our competitors combined!
WE MAKE THEM FAST!
Most custom made printed "Stretch Fit" spandex table cover orders are ready in 5 business days and custom printed economy spandex table covers are usually ready in 3 business days. RUSH SERVICE as fast as 24 Hours is also available.
LOTS OF CHOICES
Using our amazing digital dyeing process, we produce a wide range of spectacular custom printed fabric table covering products. Our custom printed spandex trade show table cloths (sometimes also called spandex table covers, table skins, lycra table cloths) are ideal for indoor or outdoor events like conferences, seminars, meetings and festivals. They turn any standard folding trade show exhibit table into a sleek, modern, attention-getting display surface for your company logo, company branding or even full-colour graphics. They really are the easiest way to turn your exhibit table into valuable advertising space quickly and easily.
WE MAKE THEM RIGHT
All our spandex table cloths meet NFPA 701 fire code regulations which is the most common requirement for flame retardancy and they all come with a certificate to prove it. Fire resistant table covers and display materials are becoming required in exhibit halls, conference centres and other public spaces, and our Canadian-made table cloths use a spandex polyester fabric from the U.S.A. that is not only wrinkle-resistant but also inherently flame-retardant. Or, our economy spandex table covers have a flame-retardant coating applied at the mill.
Unlike other inferior imprinted stretch table cloths, our Canadian made Stretch Fit premium dye sublimation printed table covers use top quality spandex polyester knit fabric so they have the same easy care properties that polyester offers - minimal shrinkage, washable, and even ironable! This fabric looks and feels great and doesn't remind you of a cheap flag or a plastic banner like some competitors spandex table cloths do. Plus, our dyes don't change the soft feel or drape of the fabric, and don't get crusty and flake off like cheap spandex table skins.
Our innovative digital dye sublimation process allows us to completely cover the table graphic with your logo, photography, or anything. With our Stretch Fit custom printed spandex table covers you're not limited to a certain number of colours or a small image area - the entire table graphic is your canvas! The custom dyed fabric starts white and we dye all the colour and content into them, so matching pms or corporate colours is no problem. And with our digital dyeing expertise, the image quality is absolutely second to none!
For association meetings, press conferences, seminars, catered receptions and other corporate meetings, a custom imprinted spandex table cover, table cloth or table throw can display your company logo, add life to the environment, reinforce themes, and provide visual support to your meeting objectives. Our custom printed spandex logo tablecloths for trade shows, conferences and company events go by many different names, but no matter what you call them we have the right table covering for your situation :
custom logo spandex table cover
spandex trade show tablecloth
custom spandex table covers with logo
custom spandex table cloth
custom stretch tablecloth
branded spandex table cloth
printed lycra tablecloth
trade show table skin
custom spandex table cover
printed table wrap
spandex tablecloth with logo
spandex tradeshow tablecloth
personalized spandex tablecloth
branded spandex table cover
personalized stretchy table cover
imprinted spandex table cloth
spandex company logo tablecloth
spandex table cloth with company logo
printed spandex table cover
spandex logo table cloth
recycled spandex tablecloth
round spandex table cover
branded spandex table throw
spandex trade show table drape
counter height spandex cover