Roller Retractable Banner Stands
---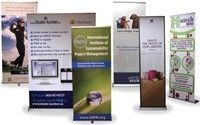 Roller retractable banner stands offer the quickest, easiest set-up of any banner stand style because the banner graphic is already concealed in the base of the unit and you simply roll it up for display. These roll-up stands are sometimes called standing banners, pop up banners, trade show banner or pull up banners. They are great for retail promotions, table top shows and trade show displays since they're generally the easiest bannerstands to set up, and typically they cost slightly more costly than most spring back or telescopic models.





These pull up banner stands can have a wide range in price. Generally with lower end economy roller-retractable banner stands you'll get:
• thinner aluminum which can have more flex resulting in a stand that leans forward and tips over more easily
• lower quality roller mechanism and hardware with short warranty and no replacement parts availability
• limited ease of use features
• thin carrying bag with no padding

Premium roller retractable banner stands usually have:
• thicker, stronger grade of aluminum housing and support poles producing a more stable stand that's less likely to tip over
• higher quality roller mechanism and hardware, longer warranty and often with replacement parts available
• ease of use features like user changeable banners (for different content), telescopic support pole (to raise the banner easily), tension adjustment (to change tension if needed)
• more durable carrying bag either molded or with padding for extra protection
Just browse the "PRODUCTS" listed below to quickly find the models that are right for you!
Products
---
These roller retractable banner stands go by many names, but whatever you call them ... we've got 'em!
roll up banner stand
pull up banner stands
stand up banner
self-standing banner
window blind banner
roller banner
banner up
standing banner
trade show banner
pop up banner