30″ wide x 60″ high Custom Printed Table Runner for trade shows & display tables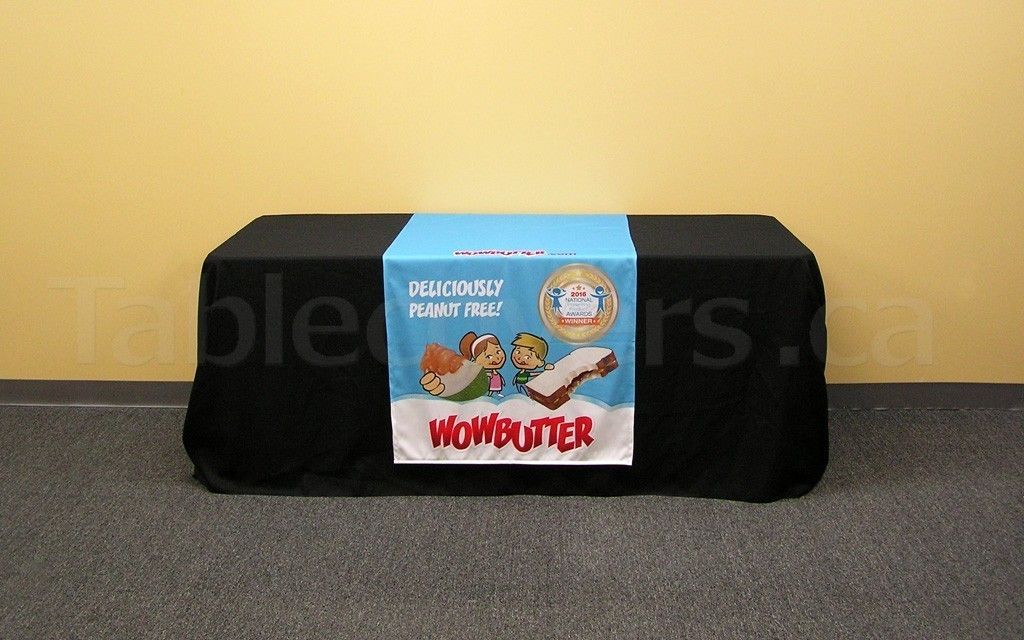 Custom Printed Table Runner - 30″ wide x 60″ high, 100% polyester wrinkle resistant and flame retardant fabric permanently dye sublimation printed with your corporate logo/custom content over the entire runner.
Custom printed 30″ x 60″ table runner, with the entire runner custom dye sublimation printed with any logos, content or colours you want (foreground and background colours can be printed). For most trade show table displays, this table runner is designed to be viewed from the front and back of the table - 25″ down the front, 30″ across the top, and 5″ over the back of a standard table. The bottom edge of the runner can be your choice of straight cut (straight across) or pennant cut (pointed end).
As Canada's leading supplier of custom digitally printed table covering products, we know how to turn an ordinary trade show table into an extraordinary branded display! We know what we're doing and we won't waste your time ... or miss your deadline.
high quality easy care wrinkle resistant and flame retardant polyester knit fabric combined with our top notch production expertise for a truly spectacular appearance
permanently custom dyed (not just printed or pressed on top)
any logos, content or colours you want over the entire table runner including background (no limits to what area can be printed or extra cost for additional colours)
most orders completed in 7 business days, rush service also available
two superior fabric choices available: regular 12 oz. (wrinkle resistant 100% polyester knit), or recycled 4.8 oz. (100% Repreve® recycled polyester)
easy to keep looking good: machine washable, wrinkle resistant (regular fabric) but can be ironed if desired, and very durable - no problem if (when) you spill a coffee on it!
professionally finished with sewn hems for a tailored appearance
this 30″ wide x 60″ high model looks great on a 4' - 6' standard display table
SPECIFICATIONS:
Material:
- 12 oz. 100% polyester knit fabric (wrinkle resistant, flame retardant passes NFPA 701 Small Scale & California Reg#F-50001), or
- 4.8 oz. 100% Recycled Fabric made entirely from 100% Repreve® Polyester yarn and 100% Post-Consumer waste (PET plastic drink bottles). It meets FTC guidelines for recycled products, is suitable for "green marketing" projects and is flame retardant (passes NFPA 701 Small Scale test).
Shape of Bottom Edge(s):
- your choice of standard straight cut or pennant cut (pointed end)
Graphics/Content:
- the entire table runner is custom dye sublimation printed with extended life dyes and can have whatever logos, content or colours (foreground and background is printed) you want
Size:
- 30″ wide x 60″ high size fits a 4' - 6' standard exhibit table. We can also make custom size table runners to fit virtually any size table. Please contact us if you need pricing for a non-standard size.
Weight:
- table runner only: .6 lbs (.27 kg)
- shipping package dimensions/weight: 16″ x 10″ x 4″ (35 x 22 x 9 cm) / 1.6 lbs (.72 kg)
MORE DETAILS:
Custom printed table runners for trade shows & table top displays - by Canada's leading manufacturer of custom digitally printed table covering products. Our table runners are custom made to order so they're right for you and we'll make your table runners exactly how you want them - with no limits to colours, sizes or unusual shapes!
Trade show table runner, printed table overlay, custom branded table drape, logo table runner - whatever you call them, our custom digitally dyed fabric table graphics are the easiest way to turn a standard folding exhibit or banquet table into a professional, attention-getting display surface.
Our custom printed table runners are available in sizes to fit most common folding table dimensions - this model looks great on a standard 4 foot or wider folding table. We also make runners for 4' (usually 24" deep), 6 or 8 foot wide tables, or we can handle virtually any custom table size as well.
We make them fast! Most orders are completed in about 7 business days, and RUSH SERVICE is also available. Customers usually need our table runners ready to use at particular trade shows or events which happen on certain dates. We know how important these deadlines are and in over 20 years of business, we've almost never missed any. In fact, we've helped many customers who originally bought table coverings from other suppliers and were told at the last minute that the order wouldn't be ready.

While some other custom printed table runners are so-so, ours are spectacular! Our unique combination of just the right fabric (recycled fabric is also available), outstanding print quality and skilled professional sewing creates the most spectacular table runners anywhere. Compare our logo table runners with competitors products to see how much better ours look. If copying is the sincerest form of flattery, then the fact that we've found competitors stealing our photos to represent their products shows just how good our custom table coverings look.
We use high quality fabric that is inherently flame-retardant (we supply a certificate for you) so it meets exhibit hall fire code regulations (passes NFPA 701 Small Scale & California Reg#F-50001). Plus, it's completely washable and ironable so there's no worries if (when) you spill a coffee on it!
For this model, the entire table fabric is permanently dye sublimation printed (using extended life dyes) with any content and colours (washable, ironable) into 100% polyester premium wrinkle resistant, flame retardant knit fabric (or optional recycled polyester fabric made from plastic bottles!).
With our digital dyeing process, any areas of the tablecloth which have custom printed content or need to be a particular background colour are completely dyed (both foreground and background are dyed) into white fabric. Unlike older, inferior methods, it is not possible to digitally dye white or other colours onto previously dyed (coloured) fabric - any areas in which custom content is required (logo, text, photo, etc.), OR areas which require a particular background colour that's not plain white, must be custom dyed. We use the latest technology instead of old-school production methods, and as a result the number of printed colours does not affect the price - 1 colour content is the same price as 4 colour photographic content!
As with all our digitally printed fabric table graphics, the custom printed conference / trade show table runner is machine washable and ironable. The colours are permanently dyed into the fabric (not printed or pressed on the surface of the fabric like some inferior products) so it's very durable and will keep looking good for many years of use - and many coffee spills!
You can also order an optional table cover carrying bag (#CCttbg2) to protect the table runner during transport and storage.
Graphic Setup (design, layout, and proofing) work is extra charge if required. For customer-supplied design final artwork no extra charges apply if it's professionally built into our design template (you'll be emailed this once your order is placed).
Average Customer Rating:
Only registered customers are allowed to add review. Please sign in and add your own review!
1 Most useful customer reviews
Corina Ludwig | FunctionFox Verified Purchase
Mar 4, 2016
Our New FunctionFox.com Table Runner just arrived and we LOVE it! Thank you! Great product, service and delivery.
Only registered customers are allowed to add review. Please sign in and add your own review!