Clear Plexiglass Barriers, Counter Shields & Sneeze Guard Partitions
---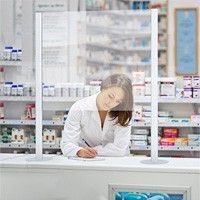 Clear cough and sneeze physical protection barriers provide valuable physical separation for staff at reception desks, sales counters, cashier checkout lanes, office desks & workstations, trade show spaces, or restaurant take out counters from coughs and sneezes which may carry germs and viruses like the Covid-19 coronavirus. Some of these clear cashier shields and see through counter barriers are ideal for portable, temporary use and others can also be secured for longer term applications.

lets staff connect with customers, deal with colleagues or conduct HR interviews while providing a physical barrier panel from coughs and sneezes that could spread germs and viruses like Covid19
choose from high quality aluminum support posts with clear viewing panels, all-clear self-standing models, or hanging cable versions
optically clear viewing panels are made with strong, light and ultra-slim 1.5mm (approx. 1/16"), or optional slim 3.0mm (approx. 1/8") clear acrylic or polycarbonate
polycarbonate (aka Lexan) is virtually unbreakable - about 200 times stronger than glass and has 15 times more impact resistance than acrylic (Plexiglass)
some models can be easily taken apart for compact storage when not required
open pass-through areas are available for key pads and products
compact components for easy shipping, and easy assembly anywhere
ultra-slim designs makes them almost invisible, to minimize sight distractions and promote normal interactions
⭐⭐⭐⭐⭐ Check out our unbiased 4.8⭐ rating on Google reviews!
"Just wanted to send a photo and a quick thank you for your barriers I picked up last week. They blend in well with the office and are built solid to provide a sense of security and safety. I appreciated the rapid turn around time and quality."
Just browse the following products to shop all our clear barrier products or stop by our Clear Guards & Screens Showroom to see them all in person (at a distance of course)!
If you don't see what you need here, please check with us - we can probably come up with a solution!
Products
---