Portable Billboards & Sign/Banner Frames
---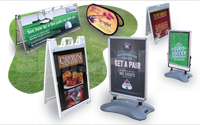 Our wide selection of portable billboards and sign or banner frames provide large, easily transportable messaging. Great for retail promotions, outdoor events, festivals and trade shows - indoors or outside.
Just browse the following products listed below to quickly get to some of our most popular products:
Products
---
Sign-A-Cade Deluxe molded plastic sandwich board Kit (with 2 signs)
Sign-A-Cade Deluxe Molded Plastic Sandwich Board Kit (with 2 printed signs):
For a durable yet lightweight sidewalk sign, the Sign-A-Cade Deluxe delivers. It's quality molded plastic construction is fairly lightweight, but it's strong enough to handle difficult outdoor conditions, and can be filled to stay put. This sandwich board displays two 24" wide x 36" high custom printed outdoor-durable corrugated plastic sign panels (included in kit), which easily slip into place and can be changed in seconds. The hollow molded plastic design also allows you to fill it with sand for extra weight and outstanding stability.
SBsacd24x36-Kit
Cdn $289.00 289.00
Portable billboards and banner frames are ideal for a wide variety of indoor or outdoor uses:
in trade shows and conference displays to easily move your messaging where it's most effective
outdoor retail street promotions to draw traffic to retail sales or special events
outdoor events and festivals to capture attention and add life to your activities
in parking lots to direct traffic or identify curbside pickup areas
This type of products go by many different names:
sandwich board
a-frame sign
sidewalk sign
portable sign frame
banner frame
temporary sign
temporary outdoor sign
pop out sign
pop up sign