"FabPop" Pop Up Tension Fabric Backwall Displays
---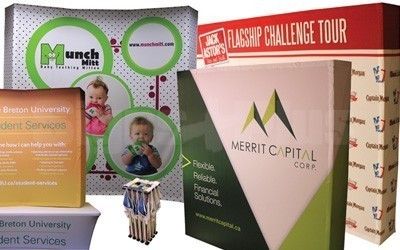 An Attention Getting Trade Show Display ... with the Easiest Setup

"FabPop" is an innovative pop-up backwall display which has a light weight yet strong aluminum pop-up scissor frame that expands like an accordian to open, and suspends a dye sublimation printed fabric graphic mural. It sets up in just seconds with no tools and is absolutely the easiest and quickest portable backwall display to set up!






The permanently dyed washable polyester fabric graphic is flame retardant and stays Velcro'd to the frame even when it's stored away, so there's no time wasted attaching it to the frame. When the frame is collapsed, its compact and portable, but when the frame is expanded the tension on the fabric pulls out most creases and wrinkles to make a smooth and flat display surface. Each display comes with a soft carrying bag and are available in 8', 10', and 12' wide floorstanding backwall models (in straight or horizontally curved models), along with various table top and tower type displays to complete your trade show or event exhibit.

takes just seconds to set up the complete display saves you precious time at every show or event
lightweight backwall display with aluminum pop up scissor type frame
incredibly easy setup since fabric graphic remains attached to the frame even when folded
as display is opened, tension on the fabric removes wrinkles
Most orders custom printed and ready to ship in 7 business days or less

⭐⭐⭐⭐⭐ Check out our unbiased 4.7⭐ rating on Google reviews!
"We have been working with Signsplus for the last few years and their customer service and attention to detail is outstanding. We have purchased a number of Fabpops and custom tablecloths for our clients and we have heard nothing but compliments. They are awesome to work with and we can always count on the team at Signsplus to deliver their amazing products! (Even when we push them with very tight deadlines!)"
---
Products
---
"FabPop 2x2" 5 foot wide (60"w x 60"h) Straight Tension Fabric Pop-Up Display - Complete Kit (frame with printed graphic)
"FabPop 2x2" 5 foot wide (60"w x 60"h) Straight Pop Up Tension Fabric Tabletop Display - Complete Kit (frame hardware with front or front & sides printed graphic):
includes 60" wide x 60" high x 12" deep aluminum scissor frame, wheeled soft wheeled carrying bag with pull handle and custom printed fabric graphic that covers either the entire front area only or the front and sides of the display, dye sublimation printed with any content and colours (table and cover shown in photo not included).








PDFPop2x2-S-Kit
0 Contact us for price
These "FabPop" displays are referred to by many names:
- pop up backwall
- popup backdrop
- pop up logo wall
- media wall
- trade show display backwall
Whatever you call them, they provide a big graphic display with quick, easy setup.