Covid-19 Products
---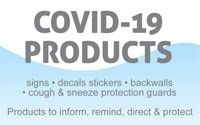 We produce a variety of signs, adhesive-backed sticker decals, physical barriers and other graphics to help people, organizations and essential services deal with the Covid-19 coronavirus. These products inform, remind, direct and help people to practice safe behaviour in order to minimize Covid 19 transmission.
For urgent rush Covid-19 signage needs and the fastest availability, choose from our range of ready-made signage with common messaging content that are usually in stock and ready to ship the next day, or in just a few days we can produce custom signage with content and appearance to suit your exact requirements.
adhesive vinyl decals and stickers: applied to glass, mirrors, steel doors, durable, can be exposed to water in washrooms or when used outside - e.g. stick on washroom mirror or hand sanitizers reminding people to wash their hands properly
wall signs: mounted to walls in or outside buildings, indoors or outside, durable and can be exposed to water - e.g. direct people to keep 6 foot distance in places where people will line up or wait for service like waiting rooms, grocery stores or public offices
cough and sneeze protection guards: clear polycarbonate physical barriers easily separate checkout cashiers, customer service staff at medical offices and restaurant take out counter workers from their patients or customer's sneezes or coughs
floor standing signs and frames: get important Covid-19 related messages directly in front of people - e.g. in grocery stores or outside public offices
floor graphics: adhesive floor decals with slip-resistant finish printed with useful Covid19 messaging - e.g. for areas where people line up, floor decals visually show how far apart they need to be
Check out the products below, or email us for more information on anything you're interested in that isn't shown here.
---
Products
---