Special offers
---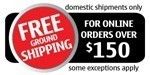 Free Ground Shipping for Online Orders over $150 before taxes. Only orders with a minimum $150 subtotal value and which are placed directly through the online store qualify for free shipping. For phone or email orders, regular shipping rates apply. Free shipping applies to domestic shipments within Canada via economy ground postal service to most major cities and surrounding areas. Maximum value of this free shipping offer is $25. Remote or high cost shipping locations may incur additional charges. Normal shipping time for this service level is approximately 5-10 business days, however delivery time is not guaranteed. Graphic production time is on top of the shipping time, so if you need the products for a specific date, another (paid) shipping method should be used. The free shipping offer has no monetary value and no other discount applies if faster speed shipment is selected. This offer may be modified or cancelled at any time without prior notice.

To choose "Free Ground Shipping", during checkout under "Delivery Method - Select A Carrier" press the drop down arrow and choose "Other Carriers". This will open up additional delivery options, and you can select "Free Ground Shipping".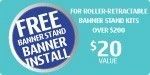 Free Installation of your printed banner into the roller-retractable banner stand hardware you order, when you order a complete Kit over $200 - a $20 value Free! Limited time offer.