6 Foot Custom Printed Table Cloths / Covers
---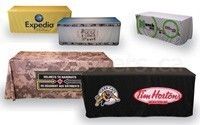 Our custom made in Canada 6 foot printed tablecloths / covers are considered the best available and are the ideal choice for truly spectacular branding for trade shows, conferences and tabletop displays. Our tablecovers.ca brand logo tablecloths are made to order and fit standard 72" wide x 30" deep x 29" high display tables or virtually any size you require, with open or closed back and in fitted (table covers) or drape (table cloth) styles. We are the manufacturer and have full control over the quality and meeting your deadline without excuses. Check out the photos below to see how great our custom table cloths look. No fake or simulated images here - just real photos of real table covers we have produced for spectacular table displays!
- Premium Canadian made 6 Foot Custom Printed Table Cloths / Covers - for the highest quality and the most features: from $299 (or even less if qty >1)









All our premium custom printed 6 ft tablecloths and covers are inherently flame resistant (pass NFPA 701) - this is critical to use your branded logo table cloth for trade shows, retail promotions or in public areas - and ours come with a certificate to prove it! Lowball competitor's tablecloths can't be used at many venues. 24 Hr Super Rush service also available. Check out our unbiased 4.7⭐ rating on Google reviews!
⭐⭐⭐⭐⭐ "We had a tablecloth made by Signs Plus with our logo printed on it back in 2009 (10 years ago) and it is still in perfect condition: no fading, rips, or holes. Now that we are expanding we needed another tablecloth with the same logo and Signs Plus was able to provide us with another excellent product with great customer service. I'm pretty sure both of the tablecloths will last for decades."
Just browse the products below to shop all 6' printed models:
Or for even lower cost options, see our budget-friendly (but not cheap looking) Custom Printed Table Throws - 6 foot models from $179 (or even less if qty >1)
Products
---
Our premium custom made in Canada 6 Foot Custom Printed Tablecloths /Covers feature:
best quality dye sublimation printing in unlimited colours (for multi-colour logos, pantone colours, even full colour photographic images) over the entire area you select of the tablecover (e.g entire front panel, entire front and both side panels, or entire table cover)
wide range of standard unprinted fabric colours available (10 to choose from or custom print any colours including pantone PMS)
your choice of fitted or drape styles
with standard open back or optional blank unprinted or custom printed back
made to fit standard 6 foot display tables that are typically 72" wide x 30" deep x 29" high - 8 foot custom table cloths also available or we can make them any size you want
42" high counter height also available
top quality wrinkle resistant 220 gsm (6.5 oz/yd²) 100% polyester fabric or optional 100% recycled polyester "water bottle fabric" - both come from U.S.A. mills
the inherently flame resistant fabric meets exhibit hall fire code regulations (NFPA701 approved - comes with certificate)
professionally sewn hems and seams for top quality and durability
outstanding durability - fabric and custom dyed content is machine washable, can be ironed or dry cleaned numerous times
we custom make these table covers to order in Canada - normal production time is 5 business days
These 6 ft custom tablecloths go by many names:
6 ft logo tablecloths
6 foot trade show table covers
display table cloths 6 ft
6 ft branded table cloths
6 foot custom tablecloths
6' personalized table covers
6 ft table covers with logos
6 foot imprinted table cloths
6 ft conference table cloths
... but whatever you call them, we've got the right table covering solution for you!