Product Information Catalogues & Brochures
---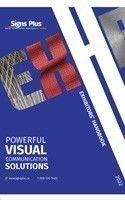 Looking for something different and haven't found it on our web site? Need to see the complete range of products available? In these product information catalogues and brochures you'll find thousands of sign and portable display products - many of which are not shown on our web site.
You can either download the pdf files or view them online. Either way, if you see something that interests you please contact us and we'll get pricing and availability information to you.
2022 Exhibitors' Handbook - Powerful Visual Communication Solutions

178 Pages 25 MB

This comprehensive catalogue covers most (but not all!) of what we offer - all in one place.

Custom Made Table Covers

4 Pages 1.5 MB

This product brochure gives details on our Canadian-made custom table covers and highlights what features to look for in display table covers.

Exhibitor's Guide - Event Packages

20 Pages 7.2 MB

Having trouble visualizing how different combinations of portable display products look as a complete package for your outdoor event or trade show exhibit? Just browse through this catalogue of event packages for great ideas and inspiration.

Sign Buyer's Guide - Wayfinding Systems

36 Pages 9.8 MB

A comprehensive catalogue of wayfinding and directional signage - integrated sign systems that help identify spaces and direct people.