Custom Printed Table Skirts
---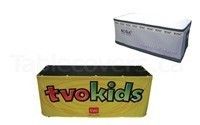 Our TableCovers.ca brand is Canada's leading manufacturer of custom digitally printed graphic table coverings. Our custom fabric table skirts turn a standard folding banquet table into a professional, attention-getting display surface in seconds. For trade shows, association meetings, press conferences, tabletop shows, seminars and other business meetings, our table skirts enhance any environment. These custom fabric table skirts easily wrap around a standard folding exhibit table, effectively displaying your company logo or message! We are the manufacturer and have full control over the quality and meet your deadline without excuses.








open back (3-sided) tableskirt models cover the front and sides of the table, while leaving the back side open to give easy access to storage under the table
closed back (4-sided) table skirts also cover the back of the table, hiding supplies and items stored under the table
The table skirt is produced in one piece which wraps continuously around the display sides of the table. Custom Table Skirts can be ordered on their own, or more commonly as part of a Table Skirt Kit. Three components make up a complete custom printed table skirt kit:
table skirt which wraps around 3 or 4 sides of the table, and has velcro sewn along the top edge to secure onto the plastic table edge clips
table top throw which covers the top surface of the table and extends down about 2" over the edges
plastic table edge clips to secure the table skirt on the table
Just browse the following categories to shop all our table skirt products sorted into groups. Or explore the "PRODUCTS" listed further below to quickly get to some of our most popular products:
---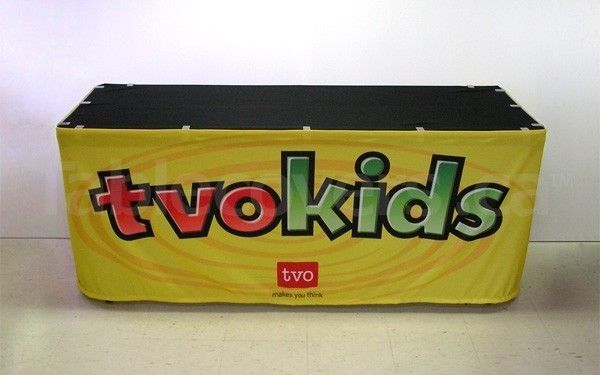 Open Back Custom Printed Table Skirts
4 products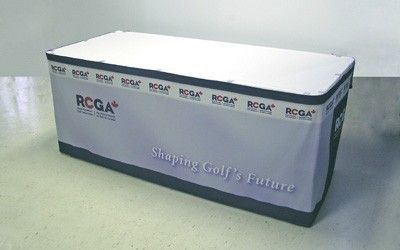 4-Sided Custom Fabric Table Skirts
4 products
Our Canadian made custom printed table skirts are perfect for indoor and outdoor events like conferences, seminars, meetings and retail displays. You simply slip edge clips around the perimeter of the table top and press the velcro-backed skirt top against it to secure the skirt on the table. They are a great way to dress up a banquet or catered celebration, enhance wedding reception tables, or act as a focal point for corporate meetings or conference. These custom printed table skirts turn a standard exhibit table into valuable advertising promotional space printed with your company logo, graphics, special Pantone colours, and even full colour photographic images!
Unlike other inferior table covering products, ours are digitally dyed into premium 100% polyester knit fabric so they have the same easy care properties that polyester offers - minimal shrinkage, washable, and even ironable! Plus, our dyes don't change the soft feel or drape of the fabric and the image quality is second to none!