Plain Unprinted Table Covers, Table Cloths, Table Throws

Our plain unprinted banquet / display table covers and economy table throws are ideal for indoor and outdoor events like conferences, seminars, meetings, retail displays and festivals. Quality table cloths add a professional look to a standard trade show exhibit table, are extremely light weight and easy to transport. We are the manufacturer (of our Canadian made table covers) and importer (of the economy table throws) and have full control over the quality and meeting your deadline without excuses.
We offer two quality/price level choices of plain unprinted trade show and banquet table tablecloths:
Plain unprinted table covers






Top quality 220 gsm 100% polyester knit or 202 gsm 100% recycled inherently flame retardant (NFPA701) fabric, available in 10 standard fabric colours, completely custom made to order in Canada using USA fabrics, can be made for standard or custom table sizes, usually ready in 5 business days
or
Economy plain unprinted table throws




Good quality 200 gsm woven polyester fabric with flame retardant (NFPA 701) coating, in 4 standard colours (black, white, royal blue or red), on imported fabric, standard sizes for 6' or 8' rectangular tables only, usually in stock and ready to ship next business day
Browse through the following Categories to see all available table covering products, or see the Featured Products further below to go straight to a product that interests you:
---

Plain Unprinted Table Covers (Made In Canada)
10 products
19 categories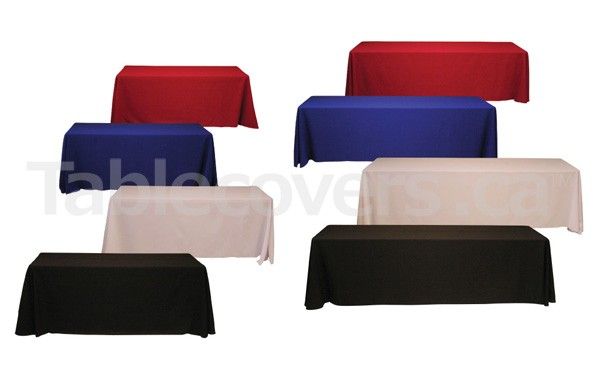 Economy Plain Unprinted Table Throws (Imported)
16 products
3 categories
Select another category to view available products.
Our plain unprinted tablecloths for banquets trade shows, conferences and company events go by many different names, but no matter what you call them we have the right table covering for your situation :
- plain table cover
- trade show tablecloth
- custom table covers
- custom table cloth
- custom tablecloth
- unbranded table cloth
- unprinted tablecloth
- trade show table throw
- custom table cover
- unprinted table cloth
- tablecloth with no logo
- tradeshow tablecloth
- unbranded table cover
- non-personalized table cover
- unprinted table cloth
- company tablecloth
- flame retardant tablecloth
- fire resistant table cloth
- NFPA fire rated table cloth