"Velocé Image" Basic Pop Up Tension Fabric Backwall Display
---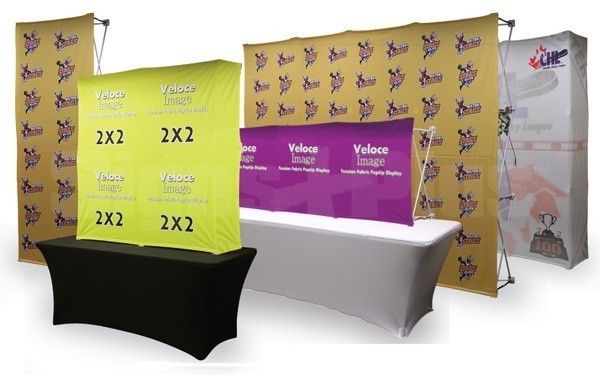 "Velocé Image" displays are basic economical portable pop-up backwalls that have a light weight yet strong formed metal popup scissor frame that expands like an accordian to open, and suspends a dye sublimation printed fabric graphic mural. They set up in just seconds with no tools so your display preparation is incredibly easy and a pleasure to use!










The permanently dyed washable polyester fabric graphic is flame retardant and stays Velcro'd to the frame even when it's stored away, so there's no time wasted attaching it to the frame. When the frame is collapsed, its compact and portable, but when the frame is expanded the tension on the fabric pulls out most creases and wrinkles to make a smooth and flat display surface. Each display comes with a soft carrying bag and the entire backwall display can actually fit in a suitcase! Velocé Image displays are available in approx. 8' and 10' wide floor standing straight backwall models, and the large custom printed graphic backdrop is perfect for trade shows, retail displays, media walls or step and repeat logo backdrops used at press conferences.
An affordable, effective portable backwall that's incredibly easy to set up!
takes just seconds to set up the complete display saves you precious time at every show or event
lightweight backwall display with formed metal pop up scissor type frame - 8' model weighs under 15 lbs including graphic
High resolution full colour dye sublimation printed stretch polyester fabric graphic
Inherently Flame Retardant (IFR) fabric meets NFPA 701 requirements - critical for event venues and retail spaces
incredibly easy setup since fabric graphic remains attached to the frame even when folded
as display is opened with no tools required, tension on the fabric removes wrinkles
Most orders custom printed and ready to ship in 5 business days or less
Just browse the following Categories to see all available models, or see the Featured Products further below to go straight to a particular popular product:
---
These "Velocé Image" displays are referred to by many names:
- pop up backwall
- popup backdrop
- pop up logo wall
- step and repeat logo backdrop
- media wall
- trade show display backwall
Whatever you call them, they provide a big graphic display with quick, easy setup.