Fabric Throw Cushions for Sports Teams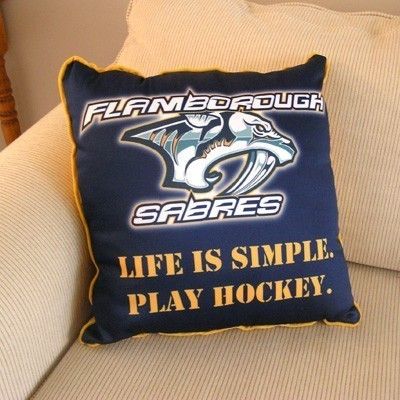 Our amazing new technology allows us to create spectacular customized fabric throw cushions which are personalized with your team's logo and unique content. The result is a professionally made, durable keepsake of your team. They make truly unique player gifts at Christmas or end of the season memento for hockey, soccer, football, basketball, lacrosse, baseball and other sports teams. These throw cushions are perfect for recreation rooms, family rooms and bedrooms - to look at or to lounge on; and will be enjoyed by players and family members for years to come.

Since these throw cushions are permanently dyed polyester fabric, the content is dyed right into the fibers of the fabric so they are washable and extremely durable. And with our digital dyeing process, we can make relatively small quantities of them (minimum order quantity 15 cushions) surprisingly affordable for your team or sports organization.

You can choose one of several design styles, which can even include individually personalized cushions, with each players name and number on their cushion. So each player gets their own unique item.

The front panels of the throw cushions are digitally dyed using the latest computerized production methods, into durable, comfortable, white polyester knit fabric (the fabric starts white and we dye all the background and foreground colour into it). The quality of the dyeing is second to none - we are a graphics company that's been supplying digital graphics to well-known companies since 1994 - so you can be confident that these are professional-quality cushions.

The back panel of the cushion does not have custom content and is made from your choice of stock colour fabric. The stock colour probably won't exactly match the front colour, but a colour can be selected which complements the front and looks good together. Each cushion is filled with premium high loft, hypo-allergenic polyester fiberfill so they're comfortable for relaxing with, too.

Need it Now? Tight timing is not a problem as we usually produce a team set of throw cushions in about 5 - 7 business days.