Custom Printed Table Covers (custom made in Canada)
---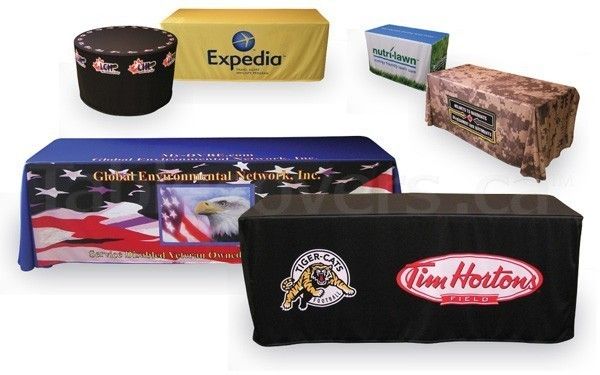 Our custom made in Canada printed table covers are considered the best available and are the ideal choice for truly spectacular table covers used in trade shows, conferences and tabletop displays. These logo tablecloths are made to order and are available in common sizes or virtually any size you require, in open back or closed back models and fitted or drape styles. We are the manufacturer and have full control over the quality and meeting your deadline without excuses.







best quality dye sublimation printing in unlimited colours (for multi-colour logos, pantone colours, even full colour photographic images) over the entire area you select of the tablecover (e.g entire front panel, entire front and both side panels, or entire table cover)
wide range of standard unprinted fabric colours available (10 to choose from or custom print any colours including pantone PMS)
top quality wrinkle resistant 220 gsm (6.5 oz/yd²) 100% polyester fabric or optional 100% recycled polyester "water bottle fabric" - both come from U.S.A. mills
the inherently flame resistant fabric meets exhibit hall fire code regulations (NFPA701 approved - comes with certificate)
professionally sewn hems and seams for top quality and durability
outstanding durability - fabric and custom dyed content is machine washable, can be ironed or dry cleaned numerous times
we custom make these table covers to order in Canada - normal production time is 5 business days
Just browse the following Categories to see all available models, or see the Featured Products further below to go straight to a particular popular product
Or for lower cost basic logo table cloth needs, see our Basic Imported "Custom Printed Table Throws".
---
Open Back (3-Sided) Custom Printed Rectangular Table Covers (Canadian made)
15 products
8 categories
Closed Back (4-Sided) Custom Printed Rectangular Table Covers (Canadian made)
21 products
8 categories
Featured Products
---
Custom made dye sublimation printed logo table cloths for standard folding trade show display tables or even custom sizes. Made in Canada in the Toronto area - we are the manufacturer.
Our custom printed logo tablecloths for trade shows, conferences and company events go by many different names, but no matter what you call them we have the right table covering for your situation:
- custom logo table cover
- trade show tablecloth
- custom table covers with logo
- custom table cloth
- custom tablecloth
- branded table cloth
- printed tablecloth
- trade show table throw
- custom table cover
- printed table cloth
- tablecloth with logo
- tradeshow tablecloth
- personalized tablecloth
- branded table cover
- personalized table cover
- imprinted table cloth
- company logo tablecloth
- table cloth with company logo