Special offers
---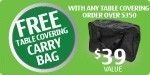 FREE #CCttcs Table Covering Rectangular Carry Bag ($39 value) with any order of at least $350 (before tax) of Canadian-made table covering products (table covers / table runners / "Stretch Fit" spandex table covers).
To redeem the free carry bag (online order):
1) for online orders you need to Login first or the promo discount won't work (click the blue "person" icon at the top right of the page)
2) add the eligible table covering products to your shopping cart (subtotal must be over $350)
3) The product "#CCttcs Table Covering Rectangular Carry Bag" should automatically appear in your shopping cart with a price of $0.00
4) If for some reason the free carry bag item doesn't appear in your cart automatically, "Continue Shopping" and CLICK ON THIS LINK to take you directly to the free item, then just add it to your cart manually. The price should display as $0.00 with a message "This item is FREE for you!"
For offline orders, please specify promo code "freebag3" at time of order.
Only 1 Free bag is available per customer (company / organization) for any size order (i.e. a $1000 order also receives 1 free bag). This promotional offer cannot be combined with other offers (unless otherwise specified). It is the customers responsibility to ensure that any special offers they expect are actually shown in the shopping cart before completing the order - please check the cart carefully to before submitting the order. This offer can only be claimed once per customer (company / organization) and is valid only for orders placed March 1 - 31, 2018.

Show all available offers