Economy Plain Unprinted Spandex Table Topper Caps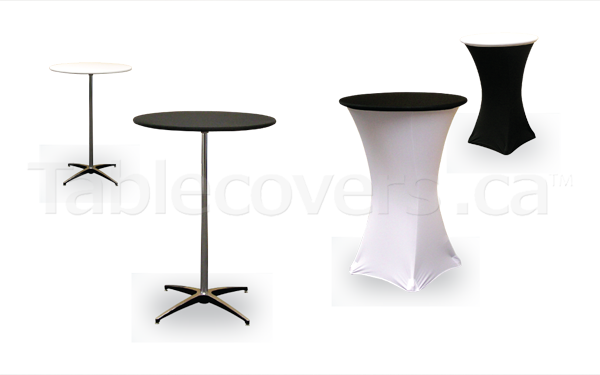 As Canada's leading manufacturer of custom digitally printed table graphic table coverings, we also stock economy plain unprinted spandex table topper caps for next day shipment. These slip just over the table top, and add extra pizzazz to an ordinary high boy bistro table, and are ideal for trade show exhibits, cocktail parties, banquets, receptions or corporate events.
These imported economy plain unprinted flame retardant spandex table topper caps are stocked in the size to fit standard 30" diameter round tables and are only available in black or white colours.
Economy Plain Unprinted Spandex Table Topper Caps feature:

ready for immediate shipment, for basic lower budget situations
stocked in the size for standard round (30" diameter) tables
the fabric is coated to make it flame retardant fabric (meets NFPA fire code requirements), certificate provided
available in 220 gsm white or black polyester/spandex stretch fabric
professionally serged edges with elastic edging
made in China
Explore your options for plain unprinted spandex table covers and topper caps by browsing the products below ...
Black 30" Round Economy Plain Unprinted Spandex Cocktail Table Topper Cap



Economy Spandex Cocktail Table Topper Cap, stretch style, for 30" diameter x round table top, entire cover plain unprinted black flame retardant polyester spandex stretch fabric
TTCEs30rn-b
Cdn$ 29.00 29.00
White 30" Round Economy Plain Unprinted Spandex Cocktail Table Topper Cap



Economy Spandex Cocktail Table Topper Cap for 30" diameter x round table top, entire cover plain unprinted white flame retardant polyester spandex stretch fabric
TTCEs30rn-w
Cdn$ 29.00 29.00
Whatever you call them, we have them:
spandex table wraps
spandex table toppers
slipover table caps
stretchy table toppers
lycra table caps
snug table caps