Rectangular Economy Custom Printed Spandex Table Covers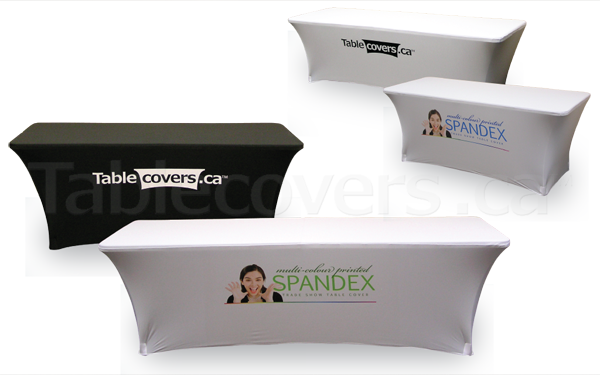 To add style and dramatic shapes to your rectangular table display, economy custom printed spandex tablecovers are a great choice. The flame retardant form fitting stretchy fabric hugs the table right down to the feet and creates curves and shapes which add an artistic, modern look to your trade show exhibit or portable display. We keep a supply of these imported table cloths on hand and print your content in our facility so we have full control over the quality and meeting your deadline without excuses.
Economy custom printed spandex table covers feature either heat transfer vinyl logos or basic dye sublimation print (maximum print area 36" wide x 15" high) for standard 6 ft (72" wide x 30" deep x 29" high) or 8ft (96" wide x 30" deep x 29" high) tables for great branding at an affordable price. We import ready made in the most popular sizes and colours so they're ready to be imprinted with your logo quickly and economically.





1 Colour heat transfer printed economy spandex table covers are ideal if you want a simple one colour logo printed on the front of a plain black or white spandex flame retardant table cloth. The black spandex table covers are printed with white logo and the white table cover is printed with a black logo. Logo print area is a maximum of 36" wide x 15" high maximum (for rectangular tables) and only simple vector logos or text print are suitable for this print method.
Multi-Colour dye sublimation printed economy spandex table covers are the solution if you want a white flame retardant spandex table cloth with a more complex print on the front like multi colour logo, full colour graphics, photos or gradient blends. We dye sublimation print a maximum area of 36" wide x 15" high (for rectangular tables) onto the front panel of the white spandex table cloth (note that black table covers can not be printed with this print method).
Whichever print method you select, you get:

good quality 220 gsm polyester spandex fabric available in your choice of 2 plain colours: White or Black
the fabric is coated to make it flame retardant fabric (meets NFPA fire code requirements), certificate provided
usually in stock and ready to print with fast 3 business day normal completion (made in China, printed in Canada)
easy to keep looking good: machine washable, can be ironed if desired (avoid printed area), and very durable - coffee spills are no problem!
professionally serged edges sewn all around so the edges won't fray
models to fit most standard 6 ft or 8 ft rectangular tables
made in China and custom printed in Canada by us - normal print production time is just 3 business days

Explore your options for rectangular economy printed spandex table covers by browsing the products below ...
Our economy custom printed spandex logo tablecloths for trade shows, conferences and company events go by many different names, but no matter what you call them we have the right table covering for your situation:
- custom logo spandex table cover
- trade show tablecloth
- custom lycra table covers with logo
- custom stretchy table cloth
- custom spandex tablecloth
- branded stretch table cloth
- printed lycra tablecloth
- trade show stretch table throw
- custom table skin
- printed fitted table cloth
- fitted tablecloth with logo
- tradeshow spandex tablecloth
- personalized stretch tablecloth
- branded spandex table cover
- personalized snug table cover
- imprinted spandex table cloth
- company logo spandex tablecloth
- spandex table cloth with company logo
- low cost spandex table cloth with logo
- 6 ft spandex table cloth with logo