Orient 1000 Single-sided Banner Stand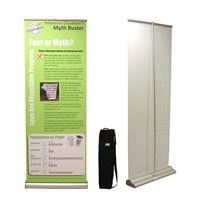 a good all-purpose roll up retractable banner stand, with mid-range features at an attractive price
? single-sided model which display banners that are 39.25" wide and 83.25" high
? stable base design without the need for a support foot
? good quality stand and roller mechanism
? carrying case included
? 1 year warranty
banner graphic not included
a good all-purpose roll up retractable banner stands, with mid-range features at an attractive price
? single-sided model which display banners that are 39.25" wide and 83.25" high
? stable base design without the need for a support foot
? good quality stand and roller mechanism
? carrying case included
?1 year warranty
To put it on display you simply pull up the banner out of the base and hook it onto the telescoping support pole. To take it down, you just gently let the banner roll itself back into the base.
All Orient models have a 3 piece shock corded support pole which displays the banner at a fixed height of 83.25" (visible height). The banner stand packs easily into a soft carrying bag for transportation and storage. The clean looking base provides good stability without the need for an additional support foot. These banner stands are manufactured using good quality aluminum and plastic components, and have an anodized silver aluminum finish, to look right in any environment.
Specifications:
Product Item #: #BSori1000 Orient 1000 Banner Stand (banner graphic not included - order using separate item number below)
Graphic Visual Size when set up: 39.25" wide x 83.25" high (997 x 2115mm)
Shipping Size: approx. 45"wide x 5" high x 9" deep (1143 x 127 x 229mm)
Shipping Weight: approx. 14 lbs. (6.5 kg) plus approx. 1.1 lb (.5kg) for the banner graphic
Available Banner Graphics:
- #VBori1000 Premium Printed Vinyl Banner for Orient 1000 (39.25" wide x 83.25" high visible size): digitally printed lay-flat, flame-retardant vinyl banner
- #FBori1000 Dyed Fabric Banner for Orient 1000 (39.25" wide x 83.25" high): digitally dyed flame-retardant, wrinkle-resistant 100% polyester fabric
Popular Accessories:
- #DLbl35 BannerLight35: 35w halogen light for banner stand (clamps onto vertical support pole of banner stand)
There have been no reviews


Only those who bought this product are allowed to add review
If you've already bought this product, please sign in and add your own review!