"Collage" Pop Up Tension fabric 3D displays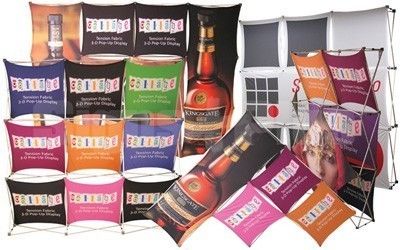 Collage packs the latest exhibit trend - tension fabric - into a lightweight, stylish display that lets you create many different looks and message montages just by changing the fabric graphic panels. The Collage?s multi-panel, 3 dimensional design makes your trade show display stand out, and provides incredible versatility in a portable display. It uses an aluminum pop-up scissor frame with magnetic locks that just ?snap? together so the frame sets up in about 5 seconds, and graphics are just as easily stretched onto the frame pegs. Many Collage models are available, and for display versatility, easy set up, lightweight and compact transport size - make it a Collage.
---
Select another category to view available products.